Floor Sanding in Plainview, NY 11803
Benefits Of Hiring Wood Floor Sanding Services Professionals In Plainview, NY
People frequently question if they can perform the wood floor sanding themselves because it is not a cheap service. Floor sanding is still a challenging task commonly left to the floor refinishing experts near me, even if it is occasionally feasible for those with some rudimentary understanding of unfinished hardwood flooring maintenance to perform it themselves.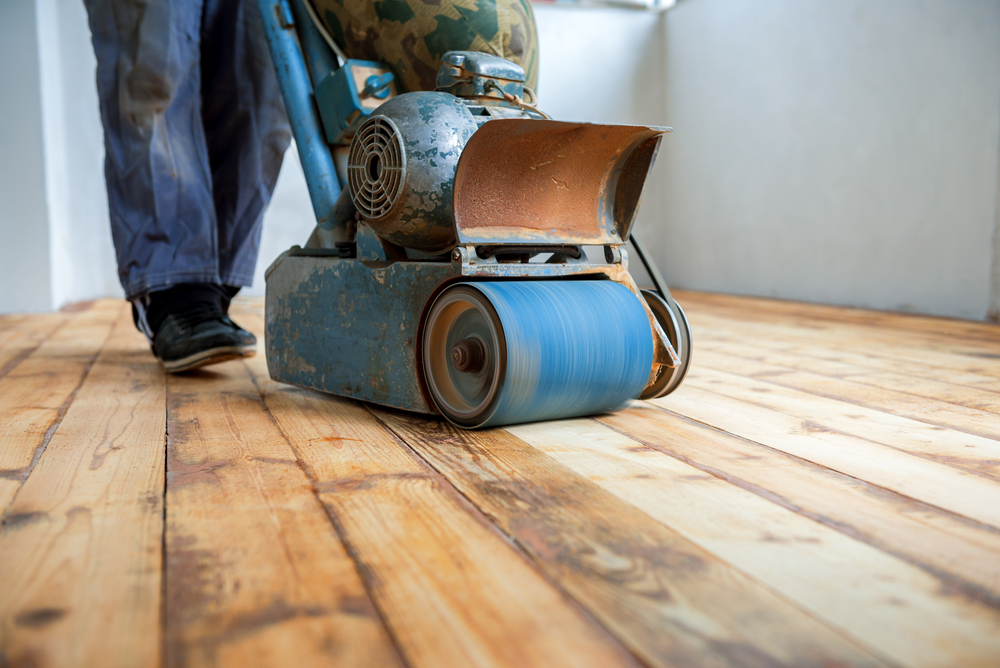 However, some wonder if they should hire professionals like KO Floors, Inc. in Plainview, NY, to conduct the floor sanding as they have little to no experience. It is, therefore, preferable to leave unfinished hardwood flooring in the hands of experts.
Wooden floor sanding is a surface treatment method, wood floor restoration, or floor repair. The natural texture of the pressure-treated woods gives the house a distinct sense of inclusion. It may be maintained and revitalized with floor refinishing near me after years of usage and wear, which is accomplished by planning and sanding floors.
One of the critical benefits of hardwood flooring over other floor coverings is the ability to be renovated. However, this job should be done by experts because mistakes made while choosing the DIY option might cost you a lot of money in Nassau County.
You must be aware of the knowledge and abilities required to execute wood floor restoration, as well as the requirement for the special equipment and supplies you will need for unfinished hardwood flooring.
You should also think about whether you have the time and energy to complete it and if you have the necessary information and expertise. Professionals like KO Floors, Inc. are always a wise and trustworthy choice because of this. Therefore, we may conclude that hiring an expert is the best option.
1) Save The Client's Time
You must possess the knowledge and abilities required to execute floor sanding and need special equipment and supplies. You should also consider whether you have the time and energy, information, and expertise to complete it. Professionals are always a wise and trustworthy choice. Therefore, we may conclude that hiring an expert is the only option.
2) Give An Assurance For The Work
For finishing hardwood floors services, these professionals provide a guarantee. Therefore, if they made a mistake—which seldom ever occurs—they would have to start over. However, the costs involved with beginning over will be your responsibility if you make even a tiny mistake.
3) Dustless Refinishing Wood Floor Services
Wood floor refinishing service is severely hampered by dust. Your furniture and electrical items may become contaminated with floor sanding dust, which might cause harm. The experts use the correct equipment to remove this dust, leaving your home spotless.
Benefits Of Hiring Floor Sanding Services In Plainview, NY
1) A Pound Of Treatment Is Worth An Ounce Of Prevention
Not all of the harm is evident. Not all damage-causing agents are immediately apparent. Wood floor restoration fixes current problems and stops new ones from arising.
Many issues can occur with a finishing hardwood floor, but ensuring that everything is secure and functional can one day prevent many difficulties in Nassau County.
2) A Smooth Surface Is A Clean Surface
The ease with which floor sanding facilitates cleaning is one advantage that is sometimes overlooked. It is pretty simple to clean a smooth surface free of dents or scratches since there is dust or debris nowhere. Moreover, this is for a material already well-liked in part due to this unique quality.
3) Allergies Are A Thing Of The Past
Do you know another benefit of professional finishing hardwood floors? If the surface weren't well maintained, including sanding with a professional flooring company near me, there is far less possibility of allergies developing when there is no dust.
4) It Pays Well If Wood Floor Is In Good Condition
Looks are important. However, what if we stopped giving a damn about how our houses look? What if we just want to relocate somewhere else and sell our house? Who knows better than estate agents, at least from what they claim?
A vinyl plank flooring or indoor oak flooring in good condition will make it simpler, quicker, and more profitable to sell your home in Plainview, NY.
Therefore, plan your interior & exterior flooring needs since a weathered and disturbed surface will have the opposite impact.
5) Numerous Colour Choices
The ability to customize pressure-treated woods is fantastic. It enables us to mold our environment. Flooring is no different! People want to follow fashion trends and stain their floors with colors like grey, dark, washed white, etc.
These hues, nevertheless, fade with time. As long as your interior floor is thick enough to be sanded, you are free to alter them whenever you choose. You can never apply a new stain without first removing the old one without sanding.
Why Will You Hire Our Professionals To Change Your Floor Completely?
What would you do if your floor started to look worn and distressed? Wood floor refinishing service is expensive, but it's better than completely replacing your floor, isn't it? Less expensive substitutes that cannot be sanded must be replaced with about twice as hardwood. Why not just buy it once and use it for the rest of your life?
If you don't want to spend a fortune on a wood floor refinishing service project, go with a refinish first. It's nearly always more cost-effective to refinish existing vinyl plank flooring or indoor oak flooring rather than installing a new one unless something tragic happens in Nassau County.
You may preserve the history of your house by hiring a flooring company near me you already have in place unless they are damaged beyond repair.
When the floor has been damaged or cracked, many people turn to floor sanding professionals for help. No additional harm will be done to the property, thanks to varCompanyFullName.
It doesn't matter whether your floors are made of pressure-treated woods or carpet; you must keep them as clean as possible. Dust and other allergens may accumulate on them.
You can avoid these hazards when you hire the prominent flooring company specialists near me from KO Floors, Inc. in Plainview, NY. To set up an appointment, dial 631-693-4388!
---
Some information about Plainview, NY
Plainview is a hamlet and census-designated place (CDP) located near the North Shore of Long Island in the town of Oyster Bay in Nassau County, New York, United States. The population of the CDP as of 2010 was 26,217. The Plainview post office has the ZIP code 11803.
Plainview's origins date to 1648, when Robert Williams, a settler from Wales, bought land in the area. The land was considered desirable for farming because of a small pond named the Moscopas by local Native Americans, meaning "hole of dirt and water". The remainder of the land in the area was purchased by Thomas Powell in 1695 as part of the Bethpage Purchase. The name "Mannatto Hill" had already appeared on the 1695 deed of the Bethpage Purchase, and the settlement came to be called "Manetto Hill". Manitou was the Native American word either for "god" or for "spirit".
The 1837 arrival of the Long Island Rail Road to nearby Hicksville brought a boom to local farming. In 1885, residents of Manetto Hill petitioned the United States Postal Service for a local post office, but were turned down because, according to several accounts, a similar name was already in use upstate. The hamlet was then named "Plainview", for the view of the Hempstead Plains from the top of the Manetto Hills.
Plainview remained a farming community, famous for growing cucumbers for the huge Heinz pickle factories located in nearby Farmingdale and Hicksville. In the early 1900s blight destroyed the cucumber crop and many farmers switched to potatoes. After World War II, a potato blight combined with the desire of many returning GIs to leave New York City for the more rural Long Island, convinced many farmers to sell their property, leading to massive development in the area, giving rise to so-called suburban sprawl. Between 1950 and 1960, the hamlet grew from a population of 1,155 to more than 35,000. Most of the available land was developed during this period or otherwise designated as parkland. While overall development declined it did continue sporadically as smaller remaining parcels of land were also developed. In recent years, some of the few large remaining parcels have given way to gated communities, which are in contrast to most housing in the area. Some of these developments include "The Hamlet on Olde Oyster Bay" and "The Seasons at Plainview", a residential community focused on over age 55 residents and first time home buyers.
Useful links for Plainview, NY
Map of Plainview, NY
---
Here are some flooring-related links: