Transform Your Floors with KO Floors' Expert Refinishing Services
The Significance of Hardwood Floor Refinishing
Hardwood floors add elegance and timelessness to any home. Over time, even well-maintained hardwood floors can lose their luster and suffer from wear, stains, and scratches. Professional floor refinishing can restore their beauty and offer several benefits.
Refinishing removes the damaged top layer of the wood, applying a fresh stain and protective finish. This rejuvenates the wood, bringing back its natural colors and shine. Additionally, refinishing extends the lifespan of your floors by providing added protection against future damage. It's a cost-effective alternative to replacing your entire flooring, saving you money while achieving remarkable results.
The Professional Floor Refinishing Process
At KO Floors, we deliver exceptional floor refinishing services with a step-by-step process for outstanding results:
Evaluation and Preparation:

Our experts assess your floors, identifying areas that require special attention. We thoroughly clean the surface, removing dirt, debris, and old finishes.

Sanding:

Using professional-grade equipment, we carefully sand the entire floor to remove old finishes, scratches, and imperfections. This process smoothes the surface and prepares it for the next steps.

Staining:

Based on your preferences, we apply a high-quality wood stain to enhance or change the color of your floors. Our wide selection ensures the desired look and matches your decor.

Finishing:

After staining, we apply multiple coats of a durable finish to protect your floors and enhance their longevity. Choose from various sheens to achieve the desired shine.

Drying and Curing:

We allow the finish to dry and cure properly, ensuring a strong and resilient protective layer. This allows you to resume normal use of your floors with confidence.

Cleanup and Restoration:

Once the refinishing process is complete, we thoroughly clean the area, removing any dust or debris. We restore furniture and rugs to their original positions, leaving you with beautifully transformed floors.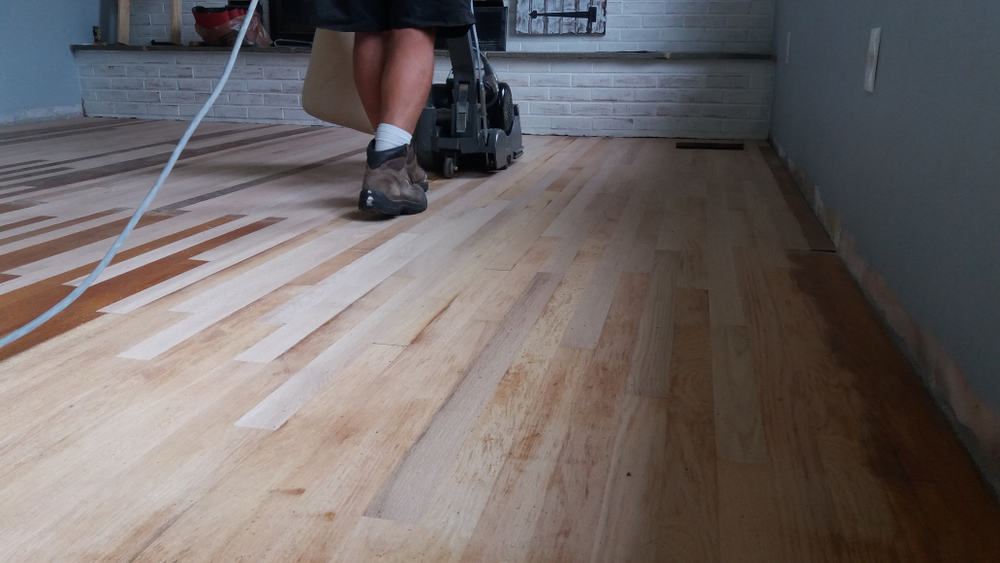 Why Choose KO Floors for Your Floor Refinishing Needs
At KO Floors, we believe in providing high-quality refinishing services at competitive prices. We strive to make professional floor refinishing accessible and affordable for homeowners, without compromising on the quality of our work.
Expertise and Experience:

Our team consists of highly skilled professionals with extensive knowledge of hardwood floors and refinishing techniques. We deliver superior results based on years of industry experience.

Quality Materials and Equipment:

We use top-quality materials and state-of-the-art equipment to ensure the highest level of craftsmanship. Our commitment to excellence guarantees a flawless finish that enhances the beauty of your floors.

Personalized Service:

We tailor our services to meet your specific needs and preferences. Our team works closely with you, providing expert advice and guidance throughout the refinishing process.

Timely Completion:

We value your time and strive to complete the project within the agreed-upon timeframe. Our efficient process minimizes disruptions to your routine while delivering outstanding results promptly.

Customer Satisfaction:

Your satisfaction is our primary goal. We provide excellent customer service, ensuring open communication, transparency, and a seamless experience from start to finish.
Maintaining Your Newly Refinished Hardwood Floors
To keep your newly refinished hardwood floors looking their best, follow these maintenance tips:
Regular Cleaning:

Sweep or vacuum regularly to remove dust and dirt. Use a recommended hardwood floor cleaner and a soft, damp mop for routine cleaning. Avoid abrasive cleaners and excessive water.

Area Rugs and Mats:

Place doormats or area rugs in high-traffic areas and near entryways to prevent scratches and dulling. Use rugs with non-slip pads to avoid shifting and accidents.

Furniture Protection:

Attach felt pads or coasters to furniture legs to prevent scratches. Avoid dragging heavy furniture across the floor.

Avoid Excessive Moisture:

Wipe up spills immediately to prevent water damage or staining. Use a damp cloth for spills and ensure the area is thoroughly dried afterward. Avoid excessive water during mopping or steam cleaning.

Regular Maintenance:

Consider periodic professional maintenance, such as recoating, to keep your floors in optimal condition. This refreshes the protective finish, extending the life of your hardwood floors.
Schedule Your Professional Floor Refinishing Service Today
Experience the remarkable transformation that professional floor refinishing can bring to your floors. Contact KO Floors today to schedule your refinishing service and let our experts revitalize your hardwood floors. With our expertise, quality materials, and personalized service, we'll help you achieve stunning results that exceed your expectations. Trust KO Floors for all your floor refinishing needs!